PILOTS
Wouter Cornelis Bakker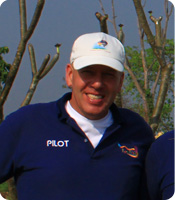 Wouter is a Dutch hot air balloon pilot instructor, with a more than 2,000 hours in the air his experience. As air force defence controller he had the opportunity to join a Dutch balloon team preparing a nonstop around the world flight as crew. After the project got postponed he got so hooked that he started taking lessons to obtain his balloon license in a half year. Once he got it, he began flying passengers. Since then he flew already in more than 25 countries.
Wout has his own balloon ride company in Slovakia. Over the years he accumulated lots of experience as balloon meister in many countries. During winters Wout comes as acting chief pilot for the Balloon Adventure Thailand team and as flight instructor for Flying Media Ltd.
Captain Chai Suwatthi
Capt. Chai graduated from the Thai Army Aviation School in Lopburi, after what he served in the army for a while after he got a CPL and Instructor rating for helicopter. Now he still serves as chief helicopter pilot and instructor for one of Thailandís government departments. He logs a more than ten thousand hours experience in the air on much helicopter type. Chai was recruited to become the first Thailand Hot air Balloon licensed pilot, approved by the Thailand Department of Civil Aviation. His experience in a balloon is more than 100 hours, mainly as one of the balloon pilot team of Balloon Adventure Thailand, as he is flying balloons when his duties permit.
Mr Rapee Kornkoseeyakaj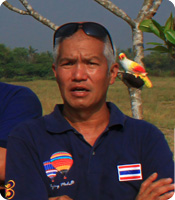 Alumni of Kasetsart University Bsc., Rapee (°1962) joined as hot air balloon pilot the Balloon Adventure Thailand team. This aviation activities lover, retired as a construction entrepreneur, familiar with remote controlled planes for 40 years, wished to join the balloon business and immediately joined the company. First he trained to be a crew for 4 years in the same time learning everything about ballooning. Later on he started training flights in Thailand with companyís chief pilot Mr Wout Bakker. Today he is a pilot for 3 years with more than 100 flying hours and a mere 500 hours tethering. He is now flying the balloons of Balloon Adventure Thailand team, which brought him around the world, flying over several European, Asian countries, the USA, Brazil and still more.
Mr Nithis Thongdee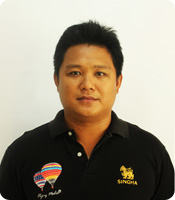 Samutprakarn born Nithis the new comer at Balloon Adventure Thailand. For many years he worked in the transportation sector, started as part time balloon crew in Pattaya International Balloon Fiesta for 3 years and finally this ballooning fan, in 2011, got the chance to train to become pilot. Now Nithis got his pilot license with 100 hours tethering and 40 hours flying time.
Nithis are also used to travel many place around the world "I join balloon to see the world".
Mr. Derek Hancock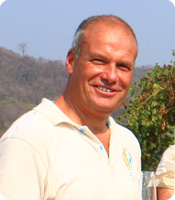 Derek was born and grew up in London, England. At age 21 he and his wife, Maureen, moved to California to forward his computer career. After 13 years in California he was relocated by his company to Portland, Oregon.
Derek got involved in ballooning when a co-worker balloon pilot invited him to come help with his balloon. After getting a ride in the balloon, Derek became 'hooked'. When his company decided to relocated to Arizona, Derek decided to use his 'layoff' money to buy his first balloon and started his own balloon ride company.
The company has been successfully giving balloon rides for the past 16 years.
During the wet and cold Oregon winters, Derek and Maureen travel to various balloon festivals in Asia. For the past 2 years Derek has been a pilot for Flying Media, flying passengers in Chiang Mai, Hua Hin, and Khoa Yai.