Locations Chiang MaiCHIANG MAI
Location 1 : Balloon Port @ Horizon Village & Resort, Doi Saket
Place of Balloon Flight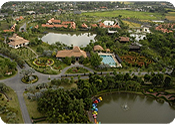 The location of Balloon Adventure Thailand's launch pad is Horizon Village & Resort, located on the Chiang Mai-Doi Saket Highway about 10km from the Chiang Mai center in Amphur Doi Saket, Chiang Mai -- here we have our operation center. However, the pilot of the balloon may decide to change the take off location of the balloon depending on the wind. The navigator/pilot has to estimate the flight direction and distance to reach a suitable landing area. The pilot usually options information in advance from the Weather Bureau a couple of hours before the scheduled flight, or is instructed so by Chiang Mai airport tower.
Become a fanpage and follow Horizon Village & Resort
Click Here to view location "Horizon Village & Resort" on Google Maps

Location 2 : 909 Balloon Event & Wedding (Evening Flight)
Place of Balloon Flight
The altenate location is 909 Balloon Resort, this one use for balloon flight in the evening. See more photos of this location.
*** Please contact for more detail ***
Click Here to view more detail of this location
Click Here to view location "909 Balloon Resort" on Google Maps