ABOUT US
Flying Media Co., Ltd.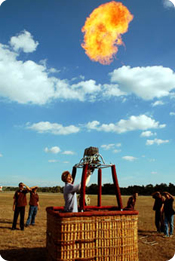 Over the past few years Commercial Flying in Thailand has progressed steadily into a standard format, together with the Department of Civil Aviation policy to promote the flying industry, has led to the establishment of several new flying units. Flying Media Company limited, which is another commercial flying unit, provides the service of Hot Air Balloon Flying. Although the company does not provide air transportation services or long distance passenger services, however, Hot Air Balloon Flying is the business of taking people to the skies and the responsibility of bring the passengers, pilot and the balloon itself back to ground safely.
The reasons for this business, asides from that of the actual balloon which must be of standard quality, the pilot too is in fact essential for the success of this business. Flying Media Company Limited has strict standards for flying and the actions of the pilot including excellent training and conduct of the pilot.
Flying Media Company limited are the only licensed Thai ballooning company for commercial flights in Thailand under the name of Balloon Adventure Thailand Team.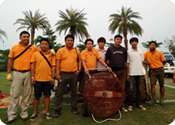 All our flights are operated by foreign pilots, with an international commercial pilot license.
Our first balloon registration is HS-FLY, then we have more 8 balloons are legally registered in Thailand, and therefore checked by the Thai Aviation Authorities, who have also checked our insurance policies.
Each and every of our flight is under control of Chiang Mai Airport Tower.