Pilots Training CoursePILOT TRAINING COURSE
If you want to become a hot air balloon pilot or log hours as P1, Chiang Mai, Thailand is an excellent place. Our flying area is the countryside 10KM east of the city. The weather conditions are almost everyday good to fly with temperatures from 13 till 20 C in the morning and 25 till 33 C in the evening.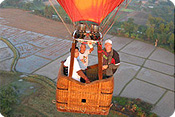 The student can choose to make one or two flights a day, normally we can fly 2 hours in the morning and 1 to 1, 5 hours in the evening. Theory is also provided during the course. After about 20 hours you are advised to fly a few hours in your own country with higher wind conditions and then take a flight exam.
The training is given by Wout Bakker from the Netherlands, chief pilot of the balloon operation in Chiang Mai and licensed flight instructor which flew already in more than 25 countries. He speaks Dutch, English, German and understand French, Spanish and Portuguese. The cost of training is depending on the date you come and amount of hours you fly, please contact for details. To come to Chiang Mai you have to fly to the international airport. We pick you up and bring you to your accomodation.
Cost of living in Chiang Mai is rather cheap. Room rates start from 10 Euro per day and a delicious Thai dinner you can get for 5 Euro. We can offer you a special room rate at Horizon Vilage & Resort from 46 Euro a night. See www.horizonvillage.net for more detail.
For more information and reservation mail at flyingmedia@gmail.com